Regular price
Sale price
HK$299.00
Unit price
per
Sale
Sold out
Order today, receive by
Wednesday 06 December 2023
.
Chocolates are always a safe bet! Conspiracy Chocolates are a safer bet! This pack offers 3 Asian flavors; Sichuan Pepper, Genmaicha, and Black Sesame. Their chocolates are guilt-free and vegan. Exciting!

🍫 Comes in 3 different Flavors.
🌱 100% Vegan
🍬 Bean to bar chocolate with no additives.
Show all details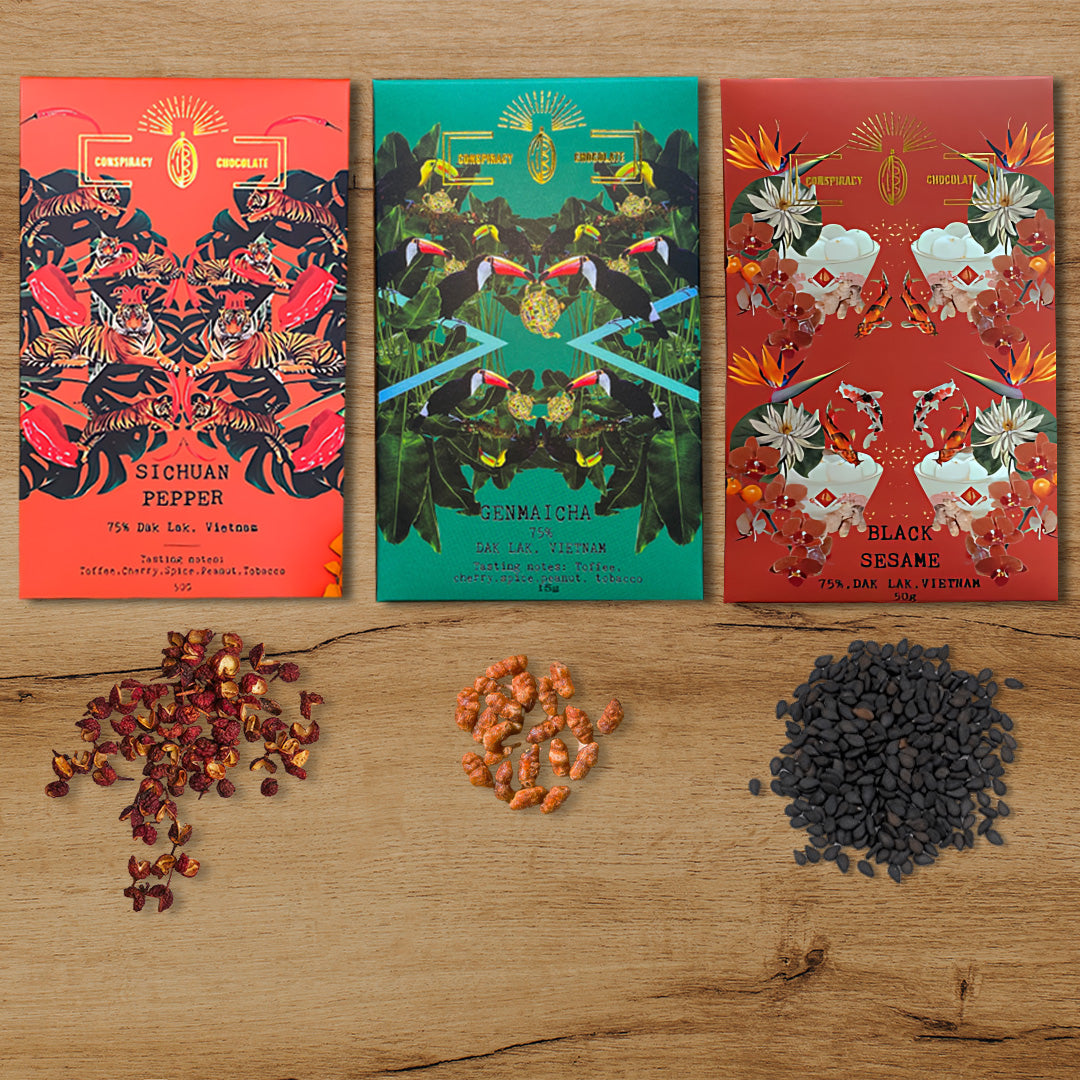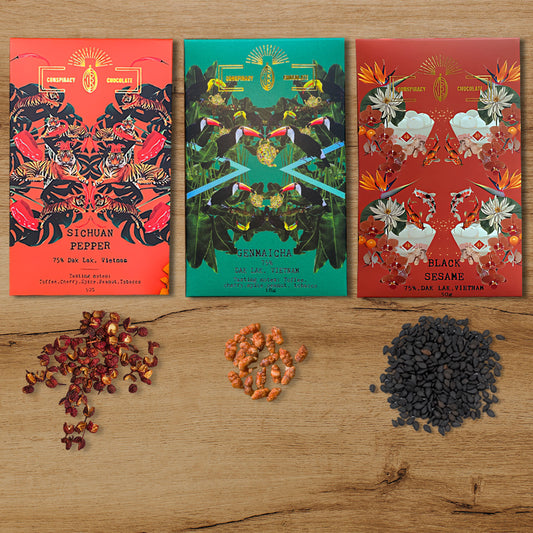 Asian Flavors Conspiracy Chocolates -
Regular price
Sale price
HK$299.00
Unit price
per
Sale
Sold out
Chocolates are always a safe bet! Conspiracy Chocolates are a safer bet! With its bars, your friend will be able to try their best-selling flavors. Their chocolates are guilt-free and accidentally vegan. Exciting! 1) SICHUAN PEPPER Imagine the tingly numbing flavor of the Sichuan Pepper combined with the sweetness of chocolate... yummy! The Sichuan pepper is mixed into the chocolate for a unique experience. The taste of the chocolate will evolve with every bite as the pepper slowly changes the way the mouth feels. This is one of our most popular bars. The chocolate is not spicy! 2) GENMAICHA Our toasted rice and hojicha-infused cacao butter give this bar a delicately silky texture combined with the surprising crunch of the toasted rice. The gentle flavor of the tea and the smokey taste of the toasted rice brings a wholesome experience. 3) BLACK SESAME The Black Sesame bar is a hint to the traditional Tong Yuen dessert, a sweet black sesame caramel with a hint of cured tangerine peel (chenpi) to round off the flavor. This bar brings a sweet and comforting bite. Perfect for cold winter days, to be shared with family and friends. Conspiracy Chocolate is a bean-to-bar chocolate company based in Hong Kong. We use cacao beans from Vietnam and process them slowly to preserve the benefits and taste of the cacao. We do not use any additives, only nuts, herbs, and spices to create some fun combinations. Our chocolate is guilt-free and accidentally vegan. Conspiracy Chocolate是一家設在香港的豆製巧克力公司。我們使用來自越南的可可,並儘可能地保持可可的最佳狀況和味道。我們不使用任何添加劑,只使用堅果和香料等原材料來創造一些特別的口味。我們的巧克力是使用低糖配方和天然純素。
📱 Customer Service always at the ready
🚚 Delivery of the Balloon Box
Our deliveries are all week from Monday to Sunday.
Orders passed before 10am are sent on the same day and orders passed after 10am are sent out the following day.
Secured Payment via Paypal or Credit Card
Attentive and responsive customer service
Same Day / Next Day Delivery